La solution de Google, Google G-Suite est une solution très utilisée aux USA, notamment pour son coût extrêmement faible à destination des petites organisations par rapport à la concurrence. Ensuite, c'est une affaire de goût et d'habitude, personnellement, j'ai toujours eu des "difficultés" avec les interfaces proposées par Google, mais c'est un autre débat !
Un des problèmes majeurs que rencontrent les clients Google G-Suite provient du manque de fonctionnalités autour de la gestion des identités, en effet, Google ne propose pas un véritable service d'annuaire en mode SaaS, on sent bien que les fonctions sont uniquement là pour supporter l'usage de G-Suite et point. Il est donc très compliqué pour une organisation de se passer d'un Active Directory local, et généralement les organisations synchronisent leurs informations provenant de l'annuaire Active Directory vers le Google Directory via les outils Google Cloud Directory Sync et G Suite Password Sync. Cette approche ne convient pas aux organisations désirant justement éliminer l'usage d'Active Directory et s'affranchir des frais de gestion et d'administration des serveurs locaux.
Spécialement conçu pour les organisation ayant besoin de beaucoup d'agilité au niveau de la gestion de leur annuaire, JumpCloud propose via un partenariat avec Google de fournir un véritable service d'annuaire pour les client Google G-Suite et propose donc la brique manquante aux clients Google.
Au travers de ce lien "Getting Started with G Suite User Import, Provisioning and Sync", vous trouverez toutes les informations techniques pour relier votre Directory JumpCloud avec G-Suite. Globalement, la tactique consiste tout d'abord à importer vos utilisateurs depuis l'annuaire Google pour récupérer l'existant, puis de paramétrer JumpCloud comme annuaire faisant autorité sur la gestiond es comptes G-Suite. De cette façon, vous conserverez le meilleur des deux mondes: un annuaire central avec JumpCloud, le provisionning des utilisateurs dans l'annuaire Google et surtout la possibilité d'utiliser vos comptes utilisateurs JumpCloud pour plein d'autres choses (comptes sur les machines clientes, annuaire LDAP central, utilisation d'un service radius, etc.) – vous pourrez même utiliser JumpCloud comme source d'authentification unique via les fonctions de fédération de Google + JumpCloud tel que décrit dans ce schéma macroscopique: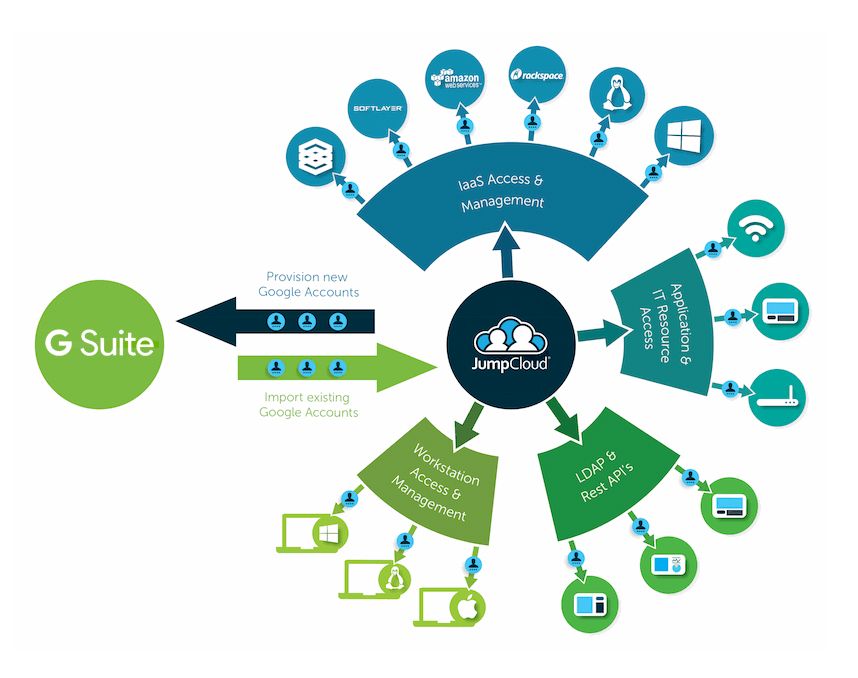 L'apport d'un Directory as a Service tel que JumpCloud à Google G-Suite représente la brique manquante à Google pour proposer une solution de bout en bout, permettant une gestion "moderne" des utilisateurs et des droits d'accès tout en ouvrant vers les possibilités avancées proposées par un DIRaaS.
Si vous êtes un client Google G-Suite, je vous conseille vivement la lecture de cette vidéo démontrant en une dizaine de minutes comment se réalise l'intégration entre JumpCloud et Google G-Suite, étonnant de simplicité:
De plus si vous voulez évaluer gratuitement JumpCloud, vous pouvez utiliser ce [ lien ]